A Solid Plan Includes Smart Power Choices.
---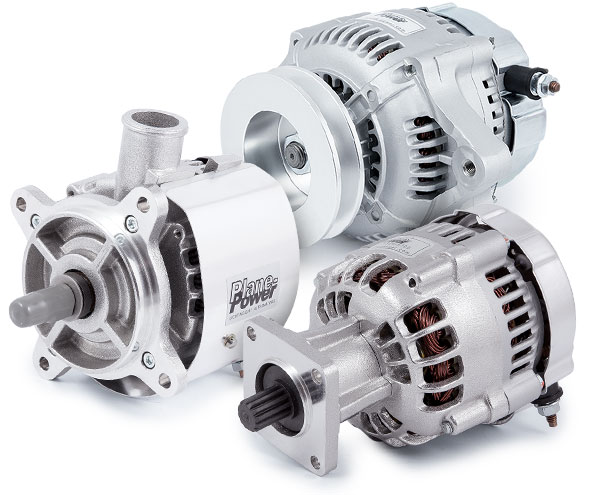 When choosing an alternator, knowledgeable homebuilders have historically handpicked Plane-Power products because of the aviation-specific alternators available for the kit market. No other brand provides more reliable power trusted by industry experts like Van's Aircraft, who have incorporated Plane-Power as original equipment for a decade. With over 7,000 kits delivered for experimental aircraft in diverse configurations, Plane-Power has the perfect solution to get nearly any project off the ground. Whether you need a 50-amp, 60-amp or 70-amp alternator, each kit provides a light-weight, intelligent design engineered for aviation. Plane-Power alternators help you build today so you can fly tomorrow.
What Makes Plane-Power Experimental Aircraft Alternators the Perfect Power Option?
Where automotive alternators are inexpensive, they simply do not provide the same value as alternators designed precisely for experimental aircraft applications. They lack brushes with material composition designed to perform well in thinner air and fans designed for the proper direction of rotation on aircraft engines. The Plane-Power experimental product line is manufactured to the same rigorous standards as our FAA PMA-certified alternators and are designed to be more reliable than automotive units.
Rather than spending an exhaustive amount of time researching, here's what makes Plane-Power alternators the best for your build:
A modern, light-weight design
Internal dual fans, specifically designed for the proper direction of rotation, maximize cooling efficiency and significantly increase the longevity of the product
Brush composition optimized for operation at altitude to minimize arcing and extend life
All factory new components
Available Built-in over-voltage protection, with no external regulator, removes extra weight, cost and complexity
Precision balanced rotors for increased bearing life
Factory support from experts, who understand your challenges, expectations and goals